thesis: Unstable
self-directed research, graduation project MIARD, 2021
WdKA Master Research Award 2021 Nominee
group show The In-Between: MIARD21' Graduation Show, Rotterdam.
Published in

︎︎︎ Spatial Folders:

Extraction A trans-scalar inquiry
(ed. Golnar Abbasi and Kris Dittel)
The surface of the planet has been idealized as a world of static landmasses. Water and land have been perceived as binaries separate from each other. Land, characterized as a stable mass allowing for human habitation, and water characterized by its constant movement. But what happens when we find ourselves in spaces where the established binary is not so clear? Spaces built and unbuilt by water such as coasts, intermittent lakes, shifting river deltas, and swamps? What happens when boundaries become un-stable, messy, murky and they entangle between each other? Suddenly, the perceived stability becomes blurred. Amphibious landscapes become a space through which the static framework can be de-constructed. These landscapes possess a sense that they are almost impossible to be completely stabilized. Because they are constantly built and unbuilt by water, they require a more layered and fragmented understanding of space that renders them in all their complexity.

The Unstable Ground takes as a starting point the site of Lake Cerknica, an intermittent karstic lake in Slovenia, to explore the ground as unstable and in constant flux, breaking the binary understanding of space. The project on one side critically employs archival, cartographic, photographic and text-based research methods, combining them with artistic research practices to explore the notion of the unstable ground. The methodologies produce a dialogue between the different notions of unstable amphibious landscapes, which have historically often become spaces of friction between local embodied knowledge and universal knowledge, rendering them contested grounds.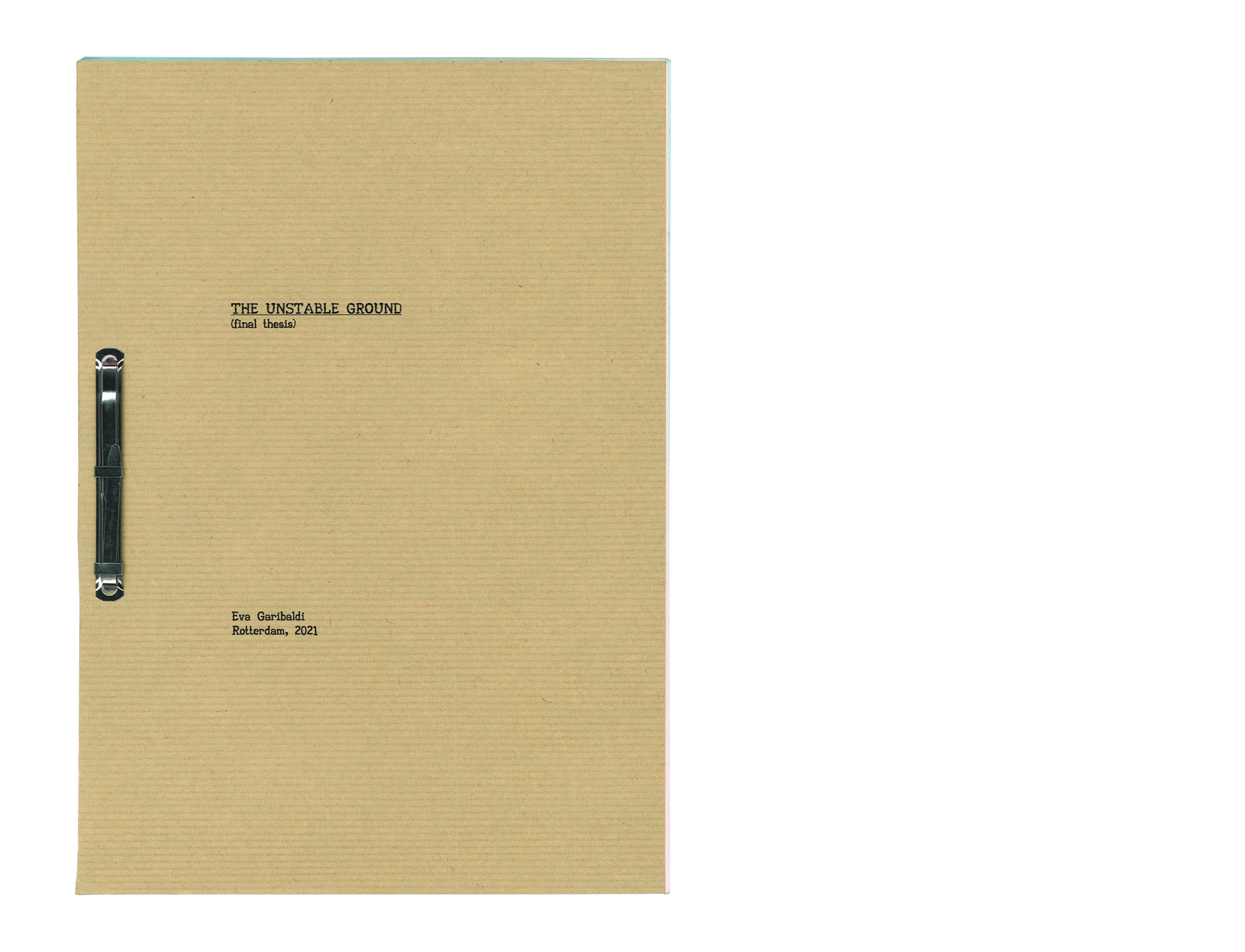 Thesis book installation inspired by archives storing knowledge and ideas that have been used to establish a specific understanding of unstable grounds such as wetlands.
Material samples collected during feild research: mud (later kiln fired), petrified wood, common reeds, parts of the fir tree etc